Acid Latin
---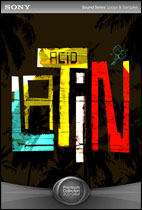 ---
24.00 USD
Produced in the heart of San Francisco by Santana rhythm ace Karl Perazzo, Acid Latin features 640 sizzling brass workouts, piano grooves, scorching rhythms, percussive loops, tight basslines, vocals, guitars and more.

Acid Latin is the brainchild of Santana band co-leader and rhythm ace Karl Perazzo, recorded directly after the amazing Supernatural sessions that exploded the band internationally.

In the heart of his home base in San Francisco, Karl brought the vibe, set the pace, and worked his magic in a series of super high-energy recording sessions that generated the raw materials for the library.

Edited to perfection, the final takes were framed in an exhibition of classic Latin music forms, including Salsa, Merengue, Comparsa and more.

Enjoy a construction kit that has everything you need to make authentic Latin tracks: bass, drums, guitars, horns - including solos, keys and a serious stockpile of Perazzo-performed percussion samples.

Acid Latin makes its debut in the Sony Sound Series catalog configured in its native 24-bit format and refreshed with new metadata to ensure unsurpassed performance in all loop-based and DAW application use.

All loops are key-labeled for your ease with all drum tracks and many instrumental loops offered with variants, fills and more to make complete song construction a breeze.


Download includes: 640 original, royalty-free Acidized Wav files. Download size: 889MB.
---
Keywords: drum;hiphop samples;latin loops;loops
File Size: 763.2 MBytes
Do you want to become a reseller/affiliate and get 60.0% provision?
Acid Latin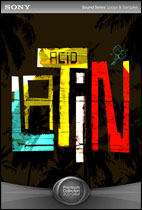 drum;hiphop samples;latin loops;loops
165593966
24.00
lovers
Fresh Download
Available!